Yggdrasil Age of Beasts: Infinity Reels Slot Review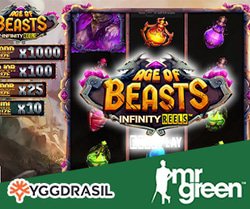 Sat. Jan. 15, 2022
There are lots of online betting sites out there with thousands of games for you to check out. As a result, once you go through the process of selecting an online casino like Mr Green, you still have many decisions to make. Notably, you need to figure out which games you are going to play. Here we will try to help you by conducting our Age of Beasts Infinity Reels review. By looking at this game for you, we hope to save you time by reviewing the game and letting you know what it has to offer.
Age of Beasts Infinity Reels Review and Overview
This online slot was developed by Reelplay, an Australian developer that enjoys exploring mythological themes. That is no different here as this title has imposing creatures from classic fantasy and mythology. Players will spin amongst those creatures to try to land free spins, bonuses, jackpots, and more rewards at Mr Green Casino.
Themes and Game Design
While the structure of the game is important, it is equally important for the title to have a good design so that it is aesthetically appealing for users. This one is certainly appealing as it has an oil painting like quality to the background images. The background images are inspired by a lonely feeling of despair over nature. That being said, once users start to hit wilds and get wins, the background images change into more lively images that should awaken you in a positive way.
Notable Features for Users
While standard reels and multipliers take up a significant portion of the game, there are other features which impact the title significantly. Notably, there is an Infinity Reels Bonus which can give great rewards. If a player manages to add 13 new reels to the grid on one spin, they will get a reward that is 888x the size of the bet they just made. This reward can be one in the base game or in free spins.
Furthermore, when players land a win that is made up of chest symbols while playing the base game, they will be awarded eight free spins. However, before you get to use your free spins, you will take part in the Wheel feature. The wheel has five tiers of prizes. When players land on a cash prize or jackpot, the player will immediately receive their coins and they will proceed to their free spins. However, if they land on other segments, they move up a tier of the wheel. If you make it to the final tier, you can win up to 1000x your bet.
Claim Bonuses to Enhance Your Experience
If you are going to play on the Mr Green website and casino, you might as well get your money's worth. The best way to do that is to make the most of the bonuses that are available to players. Fortunately, there is an extensive catalogue of bonuses and promotions for players to claim on the Mr Green website and casino.
Play Online Without Needing to Download Software
A big problem with many online betting sites is that they require players to download the casino to their computer or phone to get access to every title that is featured on the site. Fortunately, the industry is shifting towards more no download casinos like Mr Green. What that means is that you can enjoy everything the site has to offer when you go to the website. All you need to do is make an account and you will be good to go.
Is it a Slot to Try?
Now that we have concluded our Age of Beasts Infinity Reels review, we want to give you our final thoughts. Overall, it is a more than satisfactory game for users to enjoy. The slot features many fun features that should enhance the experience for users. Additionally, there is a chance for users to win massive amounts of money if they are fortunate enough to add new reels to the field 13 times in a row. The maximum a user can win on a single bet is 3953x. Our Age of Beasts Infinity Reels review found that it is a great option for people that have an interest in fantasy slots. So, if that sounds like you, feel free to give it a try!