New Slot Based On Vikings And Nacros TV Series To Be Developed By Netent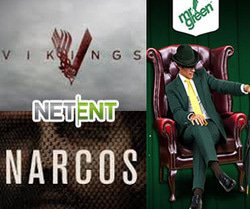 Tues. Mar. 06, 2018
Software developer NetEnt has set the online gambling world alight with some extraordinary news when they announced the development of two of the most electrifying slots of the year, Vikings and Narcos
As one of the leading manufacturers of online slot machines, NetEnt has earned its stellar status by delivering slot enthusiasts with diverse, visually striking and technically appealing games. Their staggering collection of slots spans from good-humoured slots for example Copy Cats as well as movie-themed slots that include Planet of the Apes™. To cut a long story short, there seems to be no end to the creative path that this software developer is on. They have recently revealed the development of two new stunning Vikings and Narcos slots. Taking into account, all the titles they have produced so far have been a great success and it is no doubt that the forthcoming slots will exceed all their fans expectations.
General information on Vikings Slot
NetEnt has teamed up with A+E Networks to provide online gamers with a brand-new online slot machine themed on the popular Vikings series. Up until now, viewers have been spoiled to five seasons of this drama series with plenty of epic battles and a fascinating storyline that kept them captivated as they await season six with great anticipation.
General Information on Narcos Slot
One more slot punters can look forward to this year is the Narcos slot from NetEnt based on the television series of the same name. This slot follows the attracting rise and fall of the legendary Columbian drug lord Pablo Escobar throughout the 1970's. The blockbuster TV series launched in 2015 and succeeded to keep viewers enticed for three seasons. Featuring mind-blowing familial drama, along with the scornful critique of the Columbian government of that time the multi-billion-dollar cocaine trade was made possible. All of this is brought to life through spectacular cinematography and true-to-life characters. It comes as no surprise that Narcos is distinguished as one of the most popular television series and indisputably the online slot will also find approval from players around the globe.
In the meantime play some NetEnt Slots
While waiting for the new NetEnt arrivals, take a look at some of our top NetEnt slots available to enjoy on our site. Not only do we boast with a large collection of online slots that will suit all your preferences but we have a huge selection of bonus promotions as well. The offers and promos available are constantly changing and there is always something new to enjoy each week and month. Be sure to keep an eye on the promotions page so you stay up to date with other exclusive promo offers as they become available.