Mr Green Casino Introduces Live Casino Quickbets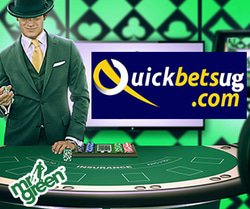 Fri. Jun. 29, 2018
Players who have registered accounts at Mr Green Casino are in for a treat. They can now use their same casino account to engage in sports betting and will benefit from a new feature called Quickbets.
Mr Green Casino has teamed with Net Entertainment Live to offer this exciting new feature to everyone betting on the World Cup in Russia. This exciting feature can be used on desktops as well as with the mobile platform at the casino.
How Quickbet Works
This new feature offered at Mr Green Casino provides a way for sports bettors to place live wagers effortlessly. It allows players who are already in a casino game to place sports bets without having to leave the casino game to do so. This lets members of the casino enjoy everything that is offered with no gaming interruptions.
With the Quickbet widget, punters will never miss a bet and will still be able to play their favourite casino games and place their sports wagers at the same time. This is an innovative product that will quickly change the world of sports betting.
The live Quickbet option is already available and is just in time for the World Cup. This amazing feature now lets players enjoy both worlds of casino excitement and sports betting at the same time.
Enjoy Live Roulette and Sports Betting
The new live Quickbet option has just been launched and it is a Live Beyond Live product that will integrate sports betting into the game of live roulette. While players are engaging in live roulette action at Mr Green Casino, they can have instant and direct access to sports betting options without leaving the live roulette table. Punters will get game updates, new odds and event bets announced through a feed or by the croupier at the table. For those that love the action of roulette and also wish to engage in sports betting, this widget is the solution as it allows members of the casino to enjoy the best of both worlds with no interruptions.
Grab Great Bonuses
Mr Green Casino has always been known to offer outstanding bonus offers and there are also some super deals for sports bettors. Those that are just getting started with sports betting can claim a welcome bonus and will instantly be able to make use of the new live quickbet option that has been launched. With free cash and instant betting available, sports betting has never been easier or more enjoyable than it is right now at Mr Green.